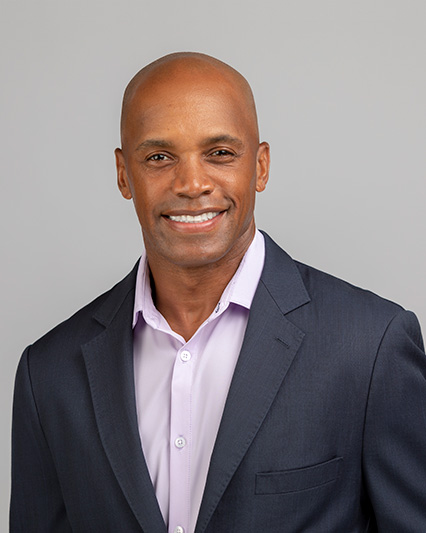 When Leonard Wheeler was selected in the third round of the 1992 NFL draft, it was his first mission accomplished. Originally from a rural town in Georgia, his path to the NFL was rife with challenges that would have stopped most aspiring players cold. But Leonard's confidence never faltered. He simply trusted that his faith and fortitude would take him where he wanted to go. Leonard spent nine years in the NFL playing for the Cincinnati Bengals, Minnesota Vikings and Carolina Panthers.   
So when Leonard retired from the NFL in 2001, he turned his sights to a new mission. He'd developed a passion for public speaking and helping people uncover their true potential when he started speaking at schools as part of his affiliation with Athletes in Action and the Fellowship of Christian Athletes.
Already armed with a diploma in Business & Psychology, he added a Communications degree as well as certifications in executive coaching, change management—even managing millennials—and again trusted in his faith and determination as he began his next major transition.
Today, Leonard is the founder and president of Trilucent Global (formerly Wheeler Enterprises), providing leadership development, communication training and executive coaching to well-known brands such as Capital One, MIT, Vanguard, AAA, Ford, MasterCard and NASCAR.  He is also the author of Beyond The Locker Room: Developing Your Game Plan For Life's Transitions, a widely recognized organizational change agent, and a respected expert in guiding people and companies through difficult transitions.  He additionally serves as a Co-Executive Director and Ambassador for the NFL, Performance Coach for NASCAR, and as a Senior Communication Consultant for Game On Nation, LLC.
Leonard's inspiring achievements reflect his strong personal belief in the power of faith and his unwavering mission to help individuals, teams and organizations achieve their highest performance level. He remains dedicated to building authentic relationships, creating opportunities, finding and sharing motivation, and leaving a legacy that makes the world a better place.  Guess you could say "mission accomplished" – again.